Welcome To
Chrysalis Skin Care Boutique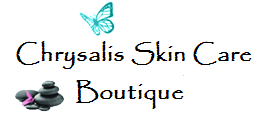 SKINNY Green Coffee
How To Drink SKINNY Green Coffee
SKINNY Green Coffee is pure and has no added fats or sugars. We'd prefer SKINNY to be appreciated in it's original pure form. However, we want SKINNY to be enjoyed, so a dash of low fat or fat free milk and a sweetener of your choice is perfectly acceptable.
SKINNY Green Coffee or Coffee Canaphora is made from un-roasted coffee beans that are rich in both caffeine and chlorogenic Acid. These compounds help boost the metabolism and inhibit Gluconeogenesis of fat absorption.
Our formulation includes Evodiamine that has a therogenic property that induces heat production and energy generation. This causes the metabolism to speed up and work harder resulting in more calories being burned.