Welcome To
Chrysalis Skin Care Boutique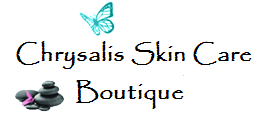 !QMS Medicosmetics
QMS Medicosmetics products can be used individually but using the combination of products leads to even better results as they work together to transform skin. The Classic set of Exfoliant Fluid, Day Collagen and Night Collagen are still the foundation of exceptional skincare and available to consumers. QMS can treat wounded skin, exposed and aging skin.

The signature of QMS Medicosmetics is to incorporate optimum concentrations of active ingredients in formulations that maximise absorption and effective action of the ingredients, with each product developed from a medical understanding of skin functioning.

Night Collagen was developed in a surgical context and was so effective at improving skin tone and appearance that it led to the development of the QMS Medicosmetics range for use at home. The Classic Set of Exfoliant Fluid, Day Collagen and Night Collagen are the foundation of daily treatment for facial skin and targeted treatment. Consumers can add specific products to customise their skincare to treat areas of concern and suit their needs.

Complementing the effective treatment of facial skin is the QMS Medicosmetics bodycare range which delivers the same high level of performance to body treatment, transforming the appearance of skin as well as moisturising. Body Shape firms contours and Re-firming Neck & More nourishes the delicate skin of the décolletage. Further enhancement of skin condition is provided by Intravital the nutritional supplement designed by QMS Medicosmetics to recondition, regenerate and protect skin by enhancing the collagen production cycle and providing an advanced combination of anti-oxidants.