Welcome To
Chrysalis Skin Care Boutique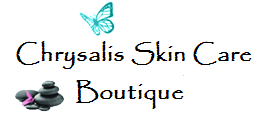 Nimue
The Nimue product range was initially developed for skin rejuvenation treatment by skin care therapists. Nimue has since evolved into a globally recognized brand, primarily amongst leading skin care salons for its innovative formulations and cutting edge technology based on the effective combination of exceptional ingredients with scientifically proven delivery systems.
Nimue is an expert understanding of the skin and the effective treatment of various skin conditions.
The treatment formulations deliver optimal concentrations of pharmaceutical grade nutrients, cutting edge antioxidants, superior quality phytoceuticals, peptides and other powerful active ingredients where they are needed most – below the skin's surface to actively improve skin health and appearance.
Nimue is globally recognised for its modern skin classification concept (Environmentally Damaged Skin, Hyper pigmented Skin, Problematic Skin and Interactive) and unique philosophy based on four treatment pillars, Rejuvenation, Restoration, Anti-oxidation and Sun Protection.
As a dynamic brand and trendsetting innovator we continue to satisfy the ever demanding industry with our unique understanding, philosophy and concept.
Click Images For larger Images: