Welcome To
Chrysalis Skin Care Boutique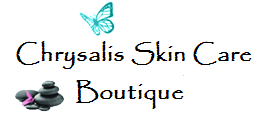 About Us
Chrysalis Skin care Boutique is dedicated to improving the appearance, health, knowledge, and state of mind of our clients by offering advanced treatments.
We are dedicated to improving your well being be it your skin or body, we will always assist with honest advice and product or treatment recommendation.
We focus on the individual and their need to ensure all treatments are custom suited and deliver results.
Our focus is on pampering and relaxation therefore we do not offer "quick" treatments. All our treatments have enough time allocated to ensure relaxation and efficacy.
As a team we ensure that you are comfortable, feel welcome and relaxed at all time.
For a Heavenly experience in all your beauty requirements we invite you to join us for your next treatment.